Publié par
Sakat
dans
English articles
, tags:
bête et violent
,
blood
,
chuck norris
,
david hasselhof
,
death
,
don't watch this
,
gore
,
joker
,
mac gayver
,
massacre
,
moyen métrage
,
sang
,
trash
,
zombi
,
zombie
Version française :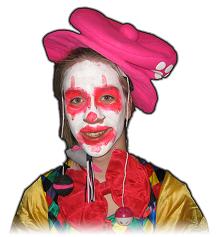 Don't Watch This » is a short/mid-movie created by Sakatland.com. It's a parody of old horror/gore movies from 80th (Dawn of the Dead by Romero for example), some weak SFX with a lot of blood. Everything is made with a really small budget (~175 $) and the staff is also the actors.

Don't Watch This

Click to play the video (at your own risks)

1. Information:
Date: March 2007
Size:
– Low version (.wmv, 360 x 288, Codec WMP8) = 69.2 mo
– High version (.avi, 720 x 576, LameMP3 & Xvid) = 353 mo
Duration: 23 minutes 20 secondes
Subtitles : 11 subtitles are available, look down on the page. In case of a problem check how to use them with VLC : Help for the subtitles.
Short movie by : Nicolas Cérutti (aka. Sakat)
Script by : Nicolas Cérutti and Leeroy Gysi (aka. Razorfist)
Sound edition by : Baptiste Crettaz (aka. Zatterc)
Makeup and FX by : Leeroy Gysi
Videocamera, montage and numeric FX by : Nicolas Cérutti
Note: Don't Watch This has been screened at the 2300 Plan9 2008 festival. It opened the Troma's night. In the usual spam session of Sakatland, a DVD has been given to Lloyd Kaufman present at the festival :
2. Download:
1) Low quality:
Don't Watch this (Low quality version, .wmv)
2) High quality:
Don't Watch This (High quality version, .avi)
3) Subtitles :
3. DVD:
If you are interested in having this short movie in DVD, you should know that a DVD exists. But it isn't commercialized. For more information, send us an Email here or post it on the forum.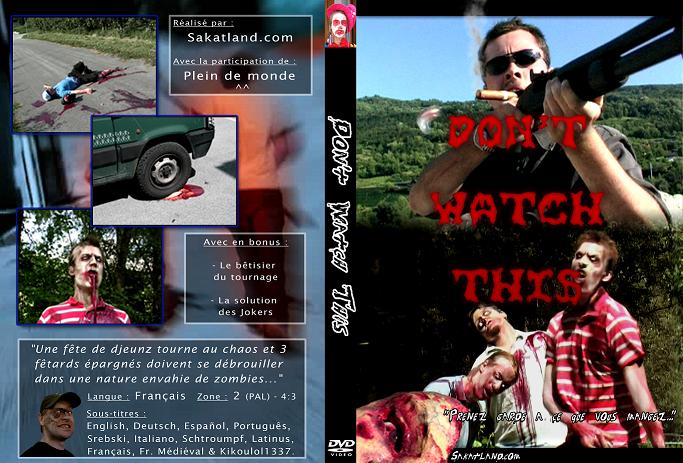 5. Thanks: